A lot relies on what sort of vehicle you have and how many bicycles you want to transport before deciding on a rack and how much money you want to spend. You must consult with each bike rack maker to discover which kind of rack is the most appropriate for your vehicle. However, the following basic information will assist you in getting started.
It is possible to put a bike carrier in one of three locations on a car: the hatchback (or trunk), the rooftop, or the hitch mount. They may hold anywhere from 2 to 5 bikes, depending on the style of rack and which sort of racks are compatible with your vehicle.
Trunk Mounted Bike Racks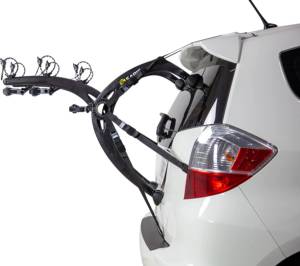 Bike racks that attach to the trunk of a vehicle are the most prevalent style. The superior trunk-mount racks are less difficult to install and are designed to accommodate a wider range of automobiles. Although this style of carrier makes it difficult to access the trunk, it is also the least costly and is compatible with the biggest number of automobiles on the market.
Your car's trunk rack compatibility may be determined by looking at three different aspects of the vehicle.
First and foremost, does your vehicle have a spoiler? Despite the fact that many trunk racks are intended to operate around them, spoilers can cause problems during the fitting of a trunk bike rack. Occasionally, the rack feet will not fit properly around them. Other times, they get in the way of the mounting straps.
Secondly, will the trunk/hatch be able to accommodate the load? There are mounting hooks that attach to a metal hatch. Is this correct? Do you think the weather stripping will prevent the mounting hooks from being inserted? Forcing them in may cause damage to the weather stripping, which may result in a leak.
Last but not least, will the weight be supported by the rear panel or bumper, on which the rack's bottom feet are resting? Many vans have extremely thin rear panels that can dimple if they are subjected to excessive weight at the back of the vehicle. In this situation, it is preferable for the rack to rest on the bumper. Bumpers, on the other hand, need to be inspected for their strength, since they are becoming more made of plastic. A rack's bottom foot might frequently rest on the numberplate area or the vertical plate at the back of a trunk if it isn't strong enough to hold the weight of the rack.
In any event, before you put a trunk rack on the car, you must inspect it for spoilers, inspect the trunk/hatch structure, and inspect the sturdiness of the automobile where the bottom foot of the rack will sit.
If a trunk rack does not suit your vehicle, a hitch rack is an excellent alternative, provided, of course, that your vehicle is equipped with a hitch. (If you require a hitch fitted, it will cost you around $180.) We'd be pleased to send you to someone who can handle that kind of task.)
Bike Rack with Hitch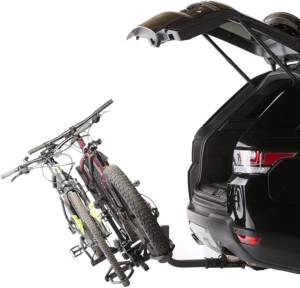 The two primary advantages of hitch bike racks are such that they make it a bit simpler to load and unload your bicycles, and because they are quite simple to install on your vehicle, often requiring just one bolt.
Depending on the size of your trailer hitch, hitch racks are available in two different widths: 14" and 24". The two-inch hitches are more popular and can handle a larger weight, ranging from two to five bicycles at one time. The inch and a 1⁄4 versions can carry less weight and, as a result, fewer bikes, generally no more than three bikes per vehicle. The majority of hitch racks will rotate or retract in some way to provide accessibility to your cargo area.
However, while backing up, you must keep in mind that your motorcycles are still at the rear of the vehicle. They stand out a great deal.
Bike rack mounted on the roof
A roof top bike rack is an option if you don't want to use a hitch rack to transport your bike. The most adaptable sort of rack, even if it is the most costly, are roof racks. They may be customized to transport everything from skis to kayaks to surfboards and even timber. They also ensure that your cargo space remains accessible.
These are often a-la-carte systems, in which you may choose the specific configuration you desire based on the items you wish to transport with you. You may choose whether or not to transport your bicycle's front wheel while traveling by bicycle. It is more convenient to transport your bicycle with the wheel connected.
Although it is somewhat more secure to transport the bike without the wheel connected, mounting it on a rack and fastening it to the rack with the front fork provides slightly more overhead space when driving under objects. The front wheel may be stored inside the vehicle, or you can purchase a wheel carrier to store it on a roof rack or bike rack.
Due to their height, roof racks have two major drawbacks: first, they are difficult to reach, and second, you must keep in mind that your bicycles are up there and when you drive into garages or beneath overhanging branches. Because they forgot that they were up there, several people have caused serious damage to their bikes.
For cars that are not equipped with hitch, rooftop, or trunk carriers, other specialized kinds of racks may be installed. Vehicles with spare tires mounted on the rear (such as Jeeps), pickup trucks, and certain vans and SUVs needed racks that were specifically designed to accommodate their vehicles.
Rack for bicycles on a Jeep
Along with your rack, you may wish to purchase a handful of other accessories. In order to prevent theft when traveling with your bicycles, you may want to invest in a lock and cable. When it comes to tie-downs, a few of bunji cords come in helpful. An item called the Boomer Bar may be used to create a top bar for bikes that don't have a top bar, such as a women cycle or other sort of bike.
Finally, a few words on how to make use of trunk racks.
Before putting the bike rack on your vehicle, make sure there is no grit or sand on your car or rack feet.
Start taking care not to unintentionally toss the straps out of the way. There are hooks on the ends of these things, and they'll scratch your paint.After you've loaded your bikes, tighten the bottom straps again. It won't be long until the bicycles are on the carrier and they'll have some breathing room.
On your first bike, place the pedal so it lands on your license plate, not your paint job.
You should ensure that your vehicle has adequate ground clearance to avoid slamming into the ground when driving up and down incline driveways
Make sure that the tire on your motorcycle does not get too near to the exhaust. It will cause your tire to melt.
Before you leave, double-check that the bike rack is properly connected to the vehicle and that both bikes are firmly attached to the rack before you drive away. There's nothing like pulling a perfectly fine bike down the interstate at 70 miles per hour to completely wreck it.
Best of luck on your journey!