Bicycle racks are a must-have item for every bike enthusiast. Even if you have a big car, it is quite difficult to move bicycles without a bike carrier in place.
But how much would it cost you to get a bike rack?
Bike racks may range in price from $35 to $1,500, depending on the style of rack and the amenities it includes.
The pricing for different types of bike racks will vary considerably within that range, so you will need to compare rates for several types of bike racks.
Average Trunk-Mount Bike Rack Cost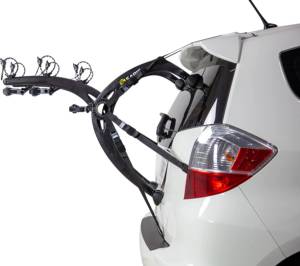 With the help of foam pads, this style of bike rack is placed in the trunk or hatch of your vehicle and fastened with adjustable straps.
Generally speaking, trunk-mounted bicycle carrier are the most cheapest sort of bike rack, with prices ranging from $25 to $200 on average.
The cost of trunk mounted bike racks differs based on the brand, capacity, quality and extras that are included.
Despite the fact that this form of bike rack is inexpensive, it does have certain drawbacks.
It is possible to install them improperly, which might result in the bike rack being dangerous. They may also not be as stable as other kinds of bike racks, especially considering the price. Furthermore, if you don't take precautions, trunk-mounted bike racks will quickly wear away the paint of your vehicle.
Average Hitch-Mount Bike Rack Cost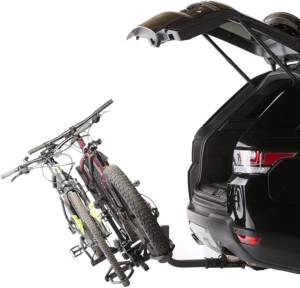 An attachment point for this sort of bike rack is a hitch on the back of your vehicle.
Typical prices for hitch-mount bike racks range from $75 and $900.
Part of the reason for the large range of pricing for hitch bicycle racks is the variety of features that may be included. Bicycle hitch racks may include elements including sway control systems, a large load factor, dual-arm supports, and other enhancements.
The design and quality of a rack have an impact on the final pricing as well.
Bicycle hitch racks in the "hanging" design, in which the bikes are supported by support arms, are often less expensive than "platform" style racks, which hold the bicycles from the bottom.
On Amazon, you can find hitch-mount bike racks.
Average Roof-Mount Bike Rack Cost
This style of bike rack is attached to the crossbars of your vehicle's roof.
The price of a freestanding roof-mount bike rack ranges between $60 and $300, while the cost of an integrated luggage basket may reach as high as $700.
Freestanding roof-mount bike racks are primarily designed to support a single bicycle and are available in a variety of mounting types, including fork-mount (which requires that the front tire be removed) and frame-mount. Depending on the style, the price might vary significantly.
Additionally, bike racks installed on the top of the vehicle may be incorporated into cargo baskets. This is an excellent choice if you're searching for a versatile roof rack, since it will allow you to keep more than simply bicycles on your vehicle.
On Amazon, you can find roof-mounted bike racks.
What Is the Reason for the High Cost of Bike Racks?
Bike racks might often seem to be more costly than they really are. Many bike racks are more expensive than the bicycles themselves.
So, what is it about bike racks that makes them so expensive?
Because of their size, quality, and features, bike racks may be prohibitively costly.
The capacity of a bike rack may have a significant impact on the pricing. The majority of bike racks should be able to accommodate 2-4 bicycles, with some being able to accommodate up to six. Many intricate components and designs are required to accommodate a large number of bicycles, particularly given the wide variety of bicycle forms.
The price of a bike rack is heavily determined by the characteristics of the rack itself. The best bike racks are usually more costly since they are built of high-quality materials to protect the bikes.
Bicycle racks may also be equipped with a variety of functions, including locking and sway control. These options may be time-consuming and expensive to implement, especially when they are complex.
What Should I Expect to Pay for a Bike Rack?
It might be tough to choose which price level is the most appropriate for you when there is such a vast choice of bike racks available. Before selecting how much to spend on a bike rack, you should take into consideration your current condition.
A bike rack should cost between $60 to $200 for the typical individual who uses one a couple of times per month or fewer, and who only uses it for short journeys.
For a trunk-mounted bike rack, you'll want to spend as little as possible at the bottom end of that price spectrum. Buying a hitch rack, for example, may necessitate paying more at the upper end of this price range.
You should stay away from the really low-cost solutions. Due to the fact that they may break quickly or are not very secure, it is worthwhile to pay a few more dollars for a high-quality bike rack.
If you want to use your bike rack regularly or for extended periods of time, you should consider investing more than $300 on your bike rack.
In order to accommodate this sort of usage, you will need a high-quality, strong bike rack, so don't skimp on the quality. Nobody wants their bike rack to break on a lengthy drive. Furthermore, you wouldn't want it to get damaged rapidly as a result of regular usage.
At this pricing range, you should investigate a variety of various kinds of bike racks in order to choose one that has the characteristics that are most suited for your requirements.
What stores sell bike racks and where can I get one?
Bike racks are available for purchase from Rack Strap Go!
The most convenient way to purchase a bike carrier is via our website. Bike racks are also available for purchase on Amazon.com in a variety of styles. Purchases made straight from a company's website, like Thule.com, are also possible provided you know exactly what you want.
Local retail shops like DICK'S Sporting Goods, REI or Walmart may provide an up-close glance at a bike rack, but they won't have as many options on our website!
Are Cheap Bike Racks a Good Investment?
Trunk-mounted bike racks are often the least expensive, with prices ranging around $25 and $50. Is it worthwhile to get a less expensive bike rack if you're on a tight budget? In general, low-cost bike racks aren't worth it because to their poor construction and limited functionality, but in specific circumstances, they may be a viable solution.
As a rule, low-cost bike racks do not provide enough support or protection for the bikes, making the money you save in the long run unjustifiably little. The motorcycles will be harmed if they come off while the vehicle is in motion. It is possible that your automobile and other vehicles on the road may be damaged as a result, and it is not worth the risk of thousands of dollars in damage.
Though in certain cases purchasing a bike rack may be worthwhile depending on the circumstances. Some people find that buying a less expensive bike rack is worthwhile when they just plan to use it occasionally for short journeys with a limited number of bikes.
A inexpensive bike rack is not a good idea to use on a lengthy road trip since there is more chance for things to go awry. Additionally, if you want to use the bike rack often, you should invest a little extra money and get a high-quality bike rack. In the long term, it will be well worth the investment.
Final Thoughts
When you're choosing a bike rack, it is essential to think about how often you'll be using it and for what sorts of journeys. If you just need a bike rack for occasional use, you can get away with spending less money.
If you want to use the rack regularly or for extended periods of time, however, you should considerinvesting in a high-quality bike rack that will last you for many years.
Ultimately, the best way to choose a bike rack is to think about your specific needs and then find a rack that meets those needs.
Happy travels!